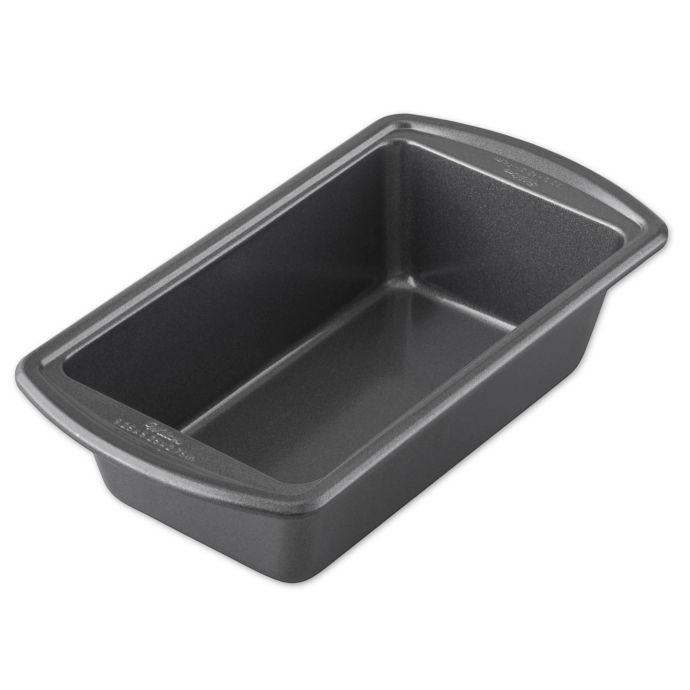 If you like to bake bread, you know all about the search for the perfect loaf pan. Since all bread pans bake just that little
bit different, bakers tend to own at least two different types, choosing the right standard loaf pan for each recipe.
First is usually a pair of Pyrex glass loaf pans from the supermarket with the lip-like handles on the two opposite narrow
ends. You have to remember to drop the oven temperature by 25 degrees, but you can see underneath to make sure the bottom crust is baking properly and they can be easily washed in the dishwasher.
Next is the metal loaf pan, one with little dents handed down from a grandmother, or a brand new one from Kaiser with the quilted pattern from a cookware shop. It better have a nonstick lining, or else it will rust in the corners in short order (which is why I don't buy black metal anymore).
The lightweight disposable aluminum, available in supermarkets near the flour aisle, are great and inexpensive. No washing is needed after a long day in the kitchen–just bake,
crush, and toss into the recycling bin. There are the expensive and brightly colored Emile Henry ceramic glazed bread pans.
But then there was the day when I came across a pan made from terracotta clay. My first pair of clay loaf pans came from the stockroom of Williams-Sonoma over thirty years ago. "I have a treat for you," said my girlfriend, who was manager at the time. "We were carrying these fabulous loaf pans and there are just two left in the back.  I saved them for you."
The first thing I noticed was the handsome dull brick red pans cost more than a regular loaf pan (about $12.00 each).  Okay, I got over that. The second thing: they were heavy (2 1/2 pounds each), but shaped just like a classic 9-by-5-inch Pyrex pan, so I felt like I was using something familiar. Alfred Bakeware. Ummm. I saved the enclosed flyer.
I followed the directions for seasoning by brushing with vegetable oil and baking empty in a hot oven. After they cooled I immediately made a batch of sunflower oatmeal bread in them that turned out the best ever. Earthy, with a nice brown
crust, just the way I want a loaf of bread to be. There was a higher dome on the loaf and no burn spots anywhere on the crust. Oh, and the crust! The perfectly shaped pan loaf ended up picture-perfect with an enviable, crunchy-crisp crust without a hint of dryness. The stoneware had baked more even than my other pans and the bread just seemed to thrive in them. I had found a way to bake in a pan, yet get the quality and texture I had come to prefer on artisan loaves baked on a stone tile, a style long beloved by the most dedicated bakers because of the even heat distribution.
All was well until the fateful day a few months ago I noticed a long fracture in one of my precious red clay loaf pans.  The search was on to find out if these pans were still available so I could replace it immediately. King Arthur Baker's Catalog carried them, as well as a shallow pie plate from the same material. "Oh, we discontinued them, although they are very popular," said owner Brinna Sands when I inquired. "It is a small operation in upstate New York and their production level varies." My dismay was short-lived when I found out they were still in business.
I had my original instructions for seasoning and there was the name and location: Alfred Bakeware, Tufty Ceramics, Andover, New York. Information provided the number and on the second ring, the phone was picked up by Karen Tufty, the creator of the pans. I not only replaced my wonderful pan, but listened to a wonderful story of how the pans were conceived and developed.
Alfred Bakeware has been in demand by gourmet bakers since its appearance in the mid-1970s. Devoted bread-maker James Beard discovered the pans when they were made at their namesake Alfred University, loved them immediately, and marketed them under his moniker of Beard Glaser and Wolfe (BGW) at Bloomingdale's as THE BRICK OVEN BAKEWARE. They were given wider distribution as COUNTRY CLAY BAKEWARE in Canada and Australia from COPCO.
Made from pure Alfred shale, a mined red clay native to the area in upstate New York, a material that has been used for ceramic roof tiles since the early 1800s. It is proven to withstand extreme New England temperatures, being soaked with rain, frozen in winter, and the blazing summer sun. The loaf pans were designed, patented, and produced at Alfred University, the third top ceramic college in the world, by their ceramic engineering students.  Shapes are made by ram-pressing at 1,800 pounds per square inch, which creates a pan that is very durable for home baking. "This is a clay that is incredibly moldable," said Karen, who has the sensibility of an artisan potter and arrived at Alfred University in 1976.  "There's something wonderful about it and I always seem to have my hands in it."
The secret to making this pan so wonderful is not only it's classic loaf pan shape, but the coating that seals the entire pan, which is not a glaze, yet gives the pan its delightful nonstick surface.
The terra sigillata coating, translating to "earth seal," simulates the same process used by Native Americans when they burnish unfired pottery by rubbing it with a stone. The Alfred finish takes crushed Alfred pottery and dissolves the minute clay platelets in a water formula, which is then sprayed back onto the pottery. This fills the microscopic hills and valleys of unfired clay. After firing, this creates the ultra-smooth, semi-porous finish which is the key to the even, nonstick baking.
When the university shifted its focus to a more educational setting rather than an industrial setting, the bustling factory was closed. At that time, Karen had trained over 500 students in the process, as well as personally designing the classic shape.
In 1985, she bought the patents and equipment from the university. A few miles away, the acreage containing the shale pit was up for sale and she, with her blacksmith husband, settled on the Andover property and started producing the pans herself. With a partner she produced the pans under the moniker Tufty-Swain. My original set of pans, stamped with TS5 on the bottom, were some of the first produced.
Swain left the business in 1991 and Karen has continued on her own to design pizza pans, quiche pans, pie pans, a lasagne baker, large and mini bread pans, a 9-by-9-inch square pan, souffle dish, and various sized roasters. I ordered a 14-inch flat pizza pan and 10-inch shallow pie pan, and to my delight, received instructions not to place a hot pan right out of the oven on the metal element of my stovetop, which quickly absorbs the heat in the pan. That difference in temperature had cracked my pan; it needs to cool on a wooden surface, a trivet, or folded towel instead.
I love the pizza pan; you are baking directly on ceramic so there is no need for the baking stone. The 10-inch pie pan is perfect for clafoutis and oven pancakes, which need an earthenware pan to bake properly. There is no difference in temperature settings necessary for the pans, so you can follow any recipe without adjustment.
Related: The America's Test Kitchen Best Lasagna Pan Reviews in 2022
Home baked never had it so good and now you have a line on my favorite pans, which will take the dough for 8 1/2- to 9-inch standard loaves, and make the most perfect looking loaves. The Loaf Pan measure 10 1/2 inches from end to end, but that includes the easy to grasp handles. I use the disposable supermarket pans for breads with high sugar content, such as drippy rolled cinnamon bread or monkey bread, and reserve my Alfred pans for earthy white and textured whole grain breads. Since I consider this my very favorite bread pan, no wonder I call it the "Beth Hensperger bread pan."
Mail Order and Online Information (Tell Karen Beth sent you):
P.O. Box 785
47 South Main Street
Andover, New York 14806
607/478-5150
Email: ktufty@infoblvd.net
www.tuftyceramics.com
Sunflower-Oatmeal Bread
Buttermilk Whole Wheat Bread
Recipe and text copyright Beth Hensperger 2009
Please enjoy the recipe and make it your own. If you copy the recipe and text for internet use, please include my byline and link to my site.